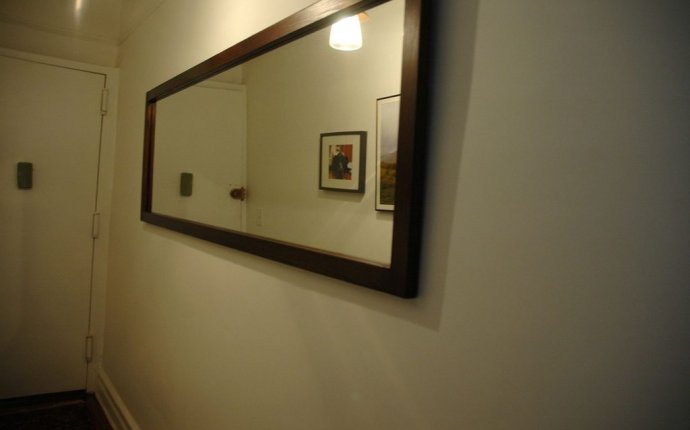 Feng Shui mirror Placement Hallway
Mirrors in your home should be clear, not distorted, cloudy, or mirror tiles. This can distort, cloud, and break up the energy in your home. It is also good to have frames around your mirrors so you don't experience 'raw edges' in your life. Beveled mirrors are fine, because the edges are smooth, and rounded.
When placing a mirror in your home, it is VERY important to see what the mirror will reflect. Be careful about mirrors at the entrance of the front door. While they can be on a side wall, you should never have a mirror facing the front door when you enter the home. It will push any energy, or opportunities right back out the door.
Many people attend a feng shui seminar and hear about putting mirrors in the wealth bagua of the home to increase wealth. It bothers me that more is not explained about this, because the mirror can actually double clutter. If this area is the laundry room, then all they are doing is increasing their laundry. If a mirror is in the kitchen reflecting the sink, then dirty dishes have doubled. Personally, more laundry, or dirty dishes doesn't represent wealth to me. Make sure if you have a 'bill' basket it is not near a mirror, as that can symbolize doubling your bills. If you have mirrored closet doors in your office be careful what you're reflecting. You sure don't want to double your work load symbolically.
Mirrors can absorb, or reflect positive or negative energy. Keep your mirrors sparkling clean to reflect the true beauty of yourself, and your home.
Types Of Mirrors For Feng Shui Energy
There are three categories of mirrors when one is focusing on working with feng shui.
Typical: These mirrors are found in various shapes such as oval, round and square. Most will have frame materials of wood or metal. Focusing on the frame you can generate some wonderful feng shui. An example would be a mirror that is round that has a frame of gold leaf. This would work with feng shui wealth and abundance when placed in the southwest feng shui area of your dwelling.
Concave: These types of mirrors are usually used outside. They mostly produce a condensed reflection that sometimes will be upside down.
Convex: A convex mirror possesses protective qualities as they serve to be a watching eye. These can be found outside in quite a few places. When incorporated into your dwelling inside, they become a part of your protective feng shui.
Various Things To Keep In Mind When Using Mirrors For Feng Shui
The below pointers will help give you some insight on the do's and don'ts when working with feng shui energy and mirrors.
Always use a whole mirror that allows you to see yourself from the neck to the top of your head. Completeness if found whenever you view yourself.
Place mirrors in areas that will pull in the reflection of nature from outdoors into the home. This amplifies the Mother Nature healing energy inside of your home.
If you have dark areas in your home, use mirrors to pull light into those areas. An example would be a dark hallway. Place a mirror that will reflect light down the hallway. This helps feng shui energy flow throughout the home.
The entryway is always an important area of the home to focus on. By placing a mirror in the entryway you are activating the water element. You also allow yourself to grab a glimpse of yourself on the way out of the home creating positive energies.
Avoid hanging mirrors in your bedroom. One of the main reasons for this is that a mirror will catch every ray of light and bounce it around the room creating an environment that will grant you unfitful sleep. They also will disrupt and destroy a positive atmosphere in the bedroom.
Walking into the home you do not want to see your image in a mirror that reflects yourself within five to seven feet of the front door. This will send your personal Chi energy right back out the front door.
Should you have mirrors that are old or become old creating distorted images of yourself, those need to be done away with. These types of mirrors will make you feel distorted and sometimes even prematurely aged!
level of education
education outfitters
blogging without investment
blogging to relieve stress
blogging zenith
blogging business
blogging from home
blogging zenith
money off blogging
blogging about mental health
education on resume
quantum units education
blogging mama
education first credit union
blogging like site
blogging out meaning
interprofessional education
blog a bull
blogging as a job
education resume examples
blogging niche quiz
blogging for money
education definition
blogging keywords
south dakota department of education
american council on education
the chronicle of higher education jobs
center for allied health education
blog via email
guest blogging off page
blogging success zone
money off blogging
blogging youtube
connecticut department of education
blogging workshops near me
san diego continuing education
blogging on google
summit professional education
blog header
blog via de la plata
council on social work education
blogging wrap up
richmond county board of education
Source: exemplore.com