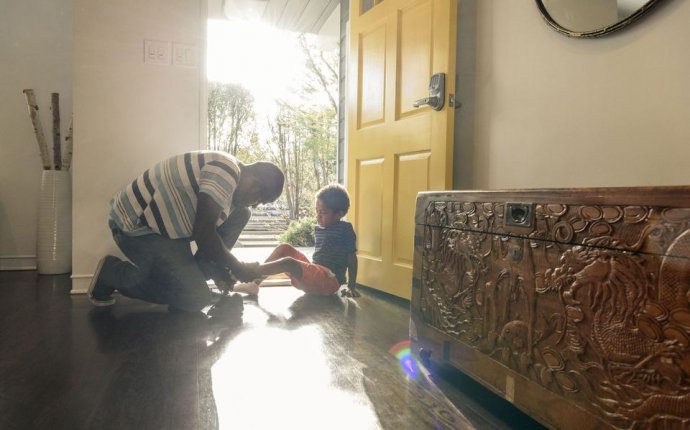 Feng Shui door Entrance
Do you find money leaving you as quickly as it comes in, virtually flying out of your hands? Do people in your house bicker constantly? Do you sometimes feel dizzy, nauseated or even anxious for no reason? The placement of the doors in your house could be partly to blame.
Doors facing each other across a hallway should either be completely aligned with each other, or not aligned at all. Slightly misaligned doors can lead to arguments and bickering in your home.
In a worst-case scenario, the frame of a door will coincide with the center of an opposing door. This can cause depression, nausea, dizziness, and negative effects on behavior, emotions and general health. You can balance the chi of misaligned doors by employing the five elemental colors, as well as by hanging wind chimes or a crystal between the two doors.
Misaligned doors create bad Feng Shui and ailments whether the doors are located in a single-family home or in an apartment building. If two apartment front doors are misaligned, place a photo of your child or another pleasant picture on the wall closest to the other apartment door.
Front Door Feng Shui
While fully aligned doors are good Feng Shui in most cases, one exception exists. The front door should never be completely aligned with the back door or bathroom door. If it is, crystals or windchimes hung in the space between the doors will slow the rushing chi and prevent your wealth from rushing out or, worse, down the toilet.
Let's explore some other possible door placements, how they affect the flow of chi in your home, and some common Feng Shui cures.
Long, Narrow Corridor with Doors at Either End
This placement of doors, typical in railroad-style apartments, can cause money to rush out of your life, resulting in financial trouble. It's even worse if the corridor runs along the center line of the building. That can cause liver, gallbladder and spleen problems. Placing mirrors to create a sense of wider space and hanging crystals or windchimes to slow the flow of chi can help.
Piercing Heart Doors
Three or more doors on both sides of a hallway that are in a row, aligned or partially aligned, can cause heart problems, headaches, and problems with the liver, gallbladder and spleen, as well as conflicts in the home. Hang two crystal balls or two windchimes to cure this placement. One should hang in line with the center line of the door, while the second should be in the middle of the corridor between the doors.
"Empty" doors - An empty door describes a door frame or passageway with no actual door to separate the spaces. An empty door is good Feng Shui if it is between a kitchen and dining room. An empty door to a bedroom may encourage an affair or lead to the husband or wife not being home often. To cure empty doors in Feng Shui, hang a regular curtain, beaded curtain, or a three-part curtain in the doorway. You can also add nine multifaceted, spherical glass crystals: four on each side of the door frame and one in the center.
Remember, intention plays a large role in Feng Shui remedies, so envision the space being filled and visualize the positive consequences you expect the cure will encourage.
Source: www.kenlauher.com