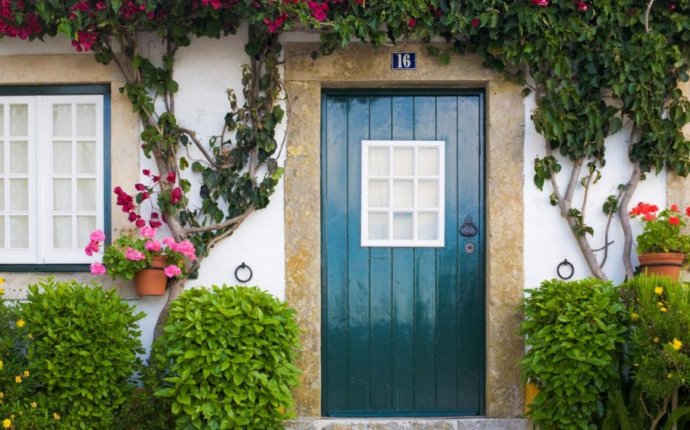 Color of front door Feng Shui
Feng shui wood element colors for your front door inspiration
After admiring all the awesome fiery feng shui front door colors, you might wonder about the good feng shui of other colors, too. Especially since I emphasized at the beginning of our feng shui front door color journey that it is super important for a door to match the energy of the compass direction it is facing.
You know by now that all the fiery colors we admired in Part 1 are the expression of the Fire feng shui element and are an excellent choice for a South facing door, as well as for a Southwest and a Northeast door. (This is all based on the play of the 5 elements that I have extensively written about, so you can learn at your own leisure)
Now, how about other good feng shui colors and front doors that face different compass directions? What if you want a blue color door? Or a grey door?
If this sounds complicated, just stay with it and by the end of this 5-part journey, you will know a lot about various front doors and their best feng shui colors.
I promise.
1. Abundant Brown Color Wood Front Door
This is an awesome example of excellent feng shui for a door facing a compass direction that needs the Wood feng shui element. For those new to feng shui, these two directions are East and Southeast.
What makes this specific front door really great is that it also has a lot of the Earth feng shui element in its flooring (the Earth element support the Wood, gives it the necessary foundation to grow). The beautiful big pots have just the right height and presence to create a very welcoming, abundant feel around the door, as well as subtly balance the weakening effect of glass panels in the front door.
Absolutely gorgeous front door, love it!
2. A Vibrant Spring Green Color Front Door
This vibrant, fresh spring green color front door is joyful and refreshing, and the choice of high gloss finish adds to its sense of newness.
After all, we all associate green color with the spring season, so if you have a door that faces one of these two compass directions (East or Southeast), know that a beautiful green color can be an excellent feng shui choice for it!
3. A Stunning Wood Front Door
This wood door is absolutely stunning and great feng shui for many reasons. The wood finish of the door is a beauty in itself, and when it comes adorned with a mystic kind of green color on the wall and a big terracotta pot and plant – this makes it an almost ideal door for a compass direction that needs the Wood element.
You might wonder if a cactus plant is good feng shui by the front door, and the answer is "It depends". If one leaves in a desert area, then having a cactus plant by the front door is just an expression of being in harmony with its surroundings.
4. Unexpected Touch of Fresh Green Color on Two Small Front Doors
The ingenious touch of spring green color on these tiny doors makes all the difference! Notice that because the doors are quite tiny, the green color is extended to the railings and the medallion above the entryway.
Source: www.knowfengshui.com