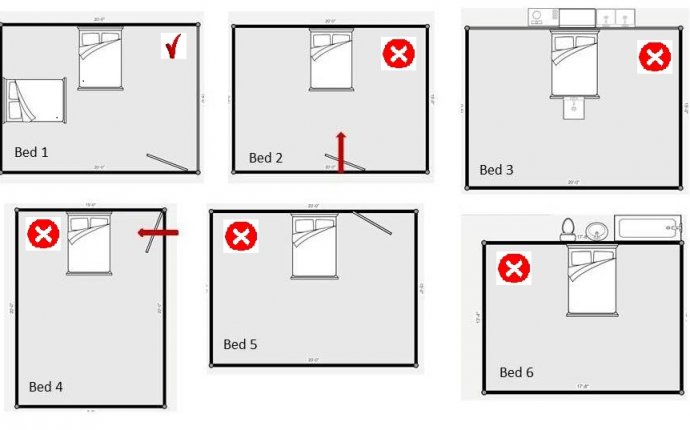 Feng Shui bedroom door
This article on feng shui bed placement and bedroom solutions has three parts. Part 3 is divided into sections A to H. You are now reading section B of part 3.
Part 1: The Bed: Feng Shui Guidelines for Your Bed
Part 2: Bed Placement: Position Your Bed with Feng Shui
Part 3: Feng Shui Solutions for Your Bed & Bedroom Challenges

Why is a bed in line with a door not good feng shui for my bedroom?
Traditional Chinese feng shui school masters say that a bed aligned with the door resembles a coffin that is always taken away feet first. Not the most appealing image. Feng shui energy-wise, what is happening when your feet are in line with the door is that you lose your energy at night/your energy gets weaker, as it is not properly contained, so to speak.
In feng shui, doors serve as energy connectors between different areas, thus they always have sort of a pulling energy to them (in order to connect, you have to kind of pull the two energies together, right?) If your bed is in line with the door, your energy will be constantly pulled at night.
What exactly do you mean by "a bed in line with the door"?
The easiest way to explain the feng shui notion of a bed in line with the door is the following: lay down in your bed and see if your feet are pointing at a door. (This can be any door - the main bedroom door, the in-suite bathroom door, the balcony door or a walk-in closet door.) If your feet are pointing at a door, then your bed is in line with the door.​
How can I remedy the situation of a bed in line with the door?
Best to move the bed so that it is not in line with the door. If this is not possible, see if you can apply these feng shui tips:
Have you read all three parts of this article with tips and solutions for a good feng shui bedroom? From the best positioning of the bed to the most practical feng shui solutions for your bedroom, it is all here, in this feng shui bedroom article.
Part 1: The Bed: Feng Shui Guidelines for Your Bed
Part 2: Bed Placement: Position Your Bed with Feng Shui
Source: www.thespruce.com