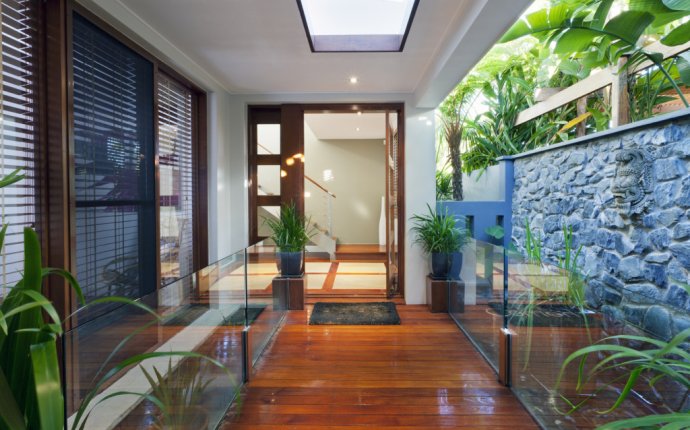 Basics of Feng Shui
Principles of Feng Shui
One of the fundamental principles of Feng Shui is Yin and Yang. It is a representation of balance and continual change. Yin and Yang is a foundation theory for Feng Shui that supports its other theories such as the Five Elements theory which will be discussed later in this section.
"Yin and Yang are dependent opposites that must always be in balance. The opposites flow in a natural cycle always replacing the other. Just as the seasons cycle and create a time of heat and cold, Yin and Yang cycles through active and passive, dark and light, etc." 3
Yin and yang cannot survive without one another for they are mutually dependant opposites. The concept of duality, the principle that things have two states, is the root of Yin and Yang. Most other religions believe in duality where one state dominates over the other as in "good over evil." The Chinese believe that equilibrium between the two is most desirable.
Yin is most often described as the female while Yang is the male. Other comparisons are as follows:
| | |
| --- | --- |
| Yin | Yang |
| Negative | Positive |
| Female | Male |
| Night | Day |
| Intuitive | Logical |
"When looking at the list of opposites note that many of them flow into and out of each other. They are not really opposites. Rather, they are the same concepts under different circumstances." 2
The Five Elements Theory
The five elements are fire, water, metal, earth and wood. The five elements interact in numerous ways. They can interact in a constructive or destructive manner.
In the constructive cycle water is a source of moisture for wood (trees) to grow, wood is a source of fuel for fire, the remnants of fire is ash (soil) of the earth, the earth forms metals, and metal allows moisture (water) to condense on it as it cools. In the destructive cycle, water extinguishes the flames of fire, fire melts metal, metal cuts through wood, and wood controls the earth by over growing it.
As in all elements of Feng Shui a balance is must always be present. When positioning furniture and other objects in accordance with the principles of Feng Shui, one uses a compass or a bagua to place the correct element in the correct direction.
"The bagua can be superimposed over a diagram of your home, office, room, desk and used as a guide. The bagua provides location specific areas for all of the aspects of your life. Enhancing a specific area might lead to an improvement in that area of your life." 4
Area that needs particular attention can also be identified by the use of the bagua. Disorganization in the north area of a living space might indicate that a person is being overcome by their career.
coronavirus cases worldwide
tree communication
what do i need to start my own business
cphi worldwide 2022
ergonomic stylish desk chair
stylish playmats
stylish summer outfits
the guernsey literary and potato peel pie society
vgroup international
what is the business model
how to increase business sales
what does moq stand for in business
communication cards for autism
coworking space benefits
direct communication
international day of happiness 2022
communication definition
leeds building society fixed rate bonds
voxi international calls
how to finance a startup business
royal historical society
communication plan template
birmingham coworking office
homebase christmas tree
christmas tv guide 2022
stylish mullet
stylish comfortable office chair
what type of business should i start
what is utility in business
the range outdoor rugs
how can i start a online business?
worldwide brands
christmas wishes
coworking spaces cambridge
legacy preston international hotel
outdoor pre lit christmas tree
according to unicef, how many girls and women worldwide have experienced fgm?
coworking liverpool street
emery worldwide
lost society battersea
outdoor security cameras
outdoor lights for house
what is effective business communication
live international bowls bowls: world championships 2022
how to create a google business page
Source: iml.jou.ufl.edu